Living in Bailey Hall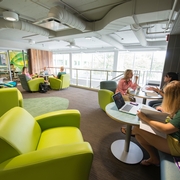 Bailey Hall, home to the RISE living-learning community and program, is located in the southwest corner of the Brody Neighborhood. The hall was recently renovated in 2012 and features new study rooms, game rooms, offices and meeting spaces on each of the four floors. The third floor is home to the community laundry room and kitchen. Bailey Hall originally opened during the 1956-57 school year and is named after Liberty Hyde Bailey (class of 1882). A professor of horticulture, Bailey planned the first horticulture laboratory building in the nation. Incoming first-year students primarily live on the 2nd floor in Bailey Hall with other RISE students and have close easy access to the RISE staff and faculty (whose offices are also on the 2nd floor). Given the popularity of the RISE program, many incoming first-year students also live on 1st and 4th floor Bailey. Most RISE second-year students return to Bailey Hall and live on the 3rd floor.
View a photo gallery of various scenes around Bailey Hall
Features:
Throughout building:

Single and double rooms
Community bathrooms
Private study rooms
Key-card security on each floor
Comfortable lounge spaces
Gender Inclusive Housing

2nd Floor

RISE Administrative Offices
Private study room for tutoring
Larger reservable classroom space

3rd floor

Kitchen facilities
Community laundry room - FREE
Private study room

4th floor

Community laundry room - FREE
Cardio Room
Private study room
Contact Information:
Bailey Service Center: 517-355-5751

At MSU, we believe every undergraduate student should be part of a Neighborhood where they can plan their time at MSU and beyond, get the resources they need to succeed academically, see the world from global perspectives, learn by doing, and live a healthy life.
More than a cluster of residence halls, Neighborhoods are bringing the resources of MSU to students where they live in the residence halls.
At the heart of Neighborhoods are Engagement Centers with study lounges, game rooms and everything from sports and fitness resources to math tutoring. MSU students use engagement centers to prepare for college and the future, connect campus resources, achieve academic success, live healthy lifestyles, explore new cultures and join the MSU community!