RISE Alum Mentoring Program
The mentor program is designed to connect current RISE students with RISE alumni. Mentors provide support to current students as they prepare for their future careers and navigate the MSU experience. Our network of graduates represent several MSU colleges and diverse professions in environmental science and sustainability studies.
In order to get in contact with a mentor, please contact Dr. Laurie Thorp (thorpl@msu.edu), Jorhie Beadle (beadlej1@msu.edu).
Mentors
Abdullah Mohammed - Class of 2017
Hi y'all! My name is Abdullah and I graduated from Michigan State in 2017 where I majored in chemical engineering with minors in entrepreneurship & innovation, as well as environmental & sustainability studies. Currently I work as a supplier operations engineer for Fiat Chrysler Automotive (FCA) at their truck plant in Warren, MI. I feel like my interests always change, but currently I work at the plant I work at mainly to get a feel of a real manufacturing environment. There's something about this environment that really cannot be learned without being here, and being thrust into the chaos is pretty fun. I have worked in data analytics and the solar industry previously, and see myself getting back into the sustainability industry, whether in manufacturing or consulting, in the near future. I also want to get into politics one day but that's a story for another day.
Anyways, I can confidently say that my experiences with Laurie and the RISE program enormously helped me become who I am today and continues to prepare me for my endeavors in the future. As an undergrad I was able to use the opportunities provided to me through the program to write my own grant to perform research around urban composting, travel to Baltimore and MIT to discuss this research, start and run the first student run business in the history of MSU, and travel to Japan during the summer for an incredible internship just to name a few. If you need one thing to understand about the RISE program, just understand that it is FILLED with opportunity. Be active. Talk to people. Express your passions and ideas because there are always people who feel the same way and the resources to make these ideas turn into reality. If you need help, it's there. Taking a university with 50,000 people and making it feel small and making you feel important and cared about is tough, and as long as you use the resources available to you the program does a great job at doing just that.
I was told to add some fun facts about myself but I can't really think of any so I'm sure if you ask Laurie about me she can tell you some and show you pics of my cat Giggles and that seems good enough. Feel free to holla at me preferably via email/text/Instagram anytime with questions you might have for me, and if you'd like to talk on the phone we can set up a time!
Allison Stawara - Class of 2016
I graduated from MSU with a B.S. In Horticulture with a focus in Sustainable/Organic Horticulture, Minor in Environmental Studies and Sustainability
I am currently working at the MSU Upper Peninsula Research and Extension Center as Production and Research Manager of the North Farm. We serve as a vegetable research facility, as well as host on-farm learning experiences for K-12 students, and support beginning farmers in the Upper Peninsula with a farm incubator program
Areas of expertise include season extension growing, winter storage crop production, cover crops in rotation with vegetable crops, GAP food safety protocols and organic certification protocols
My involvement in RISE led directly to switching my major to Horticulture during my time at MSU, I worked in the Bailey GREENhouse all 4 years of my undergrad, and it played a huge role in my learning experience. I would not be doing the work I do now without the time I spent in the program, and the community I was a part of during my time.
Fun Fact: I spend most of my time off in the UP bike packing as a way to explore the Northwoods!
Anna Jullie - Class of 2020
I earned my degree at MSU in Environmental Biology/Zoology with minors in Environmental Studies and Sustainability and Marine Ecosystem Management. I was lucky enough to find a field technician job for the summer working for Herpetological Resource Management. We are currently contracted with Consumers Energy to work with them to save all the reptiles and amphibians we can as they work to install the new natural gas pipeline. Saving so many animals' lives is very rewarding! I will be continuing to job search for my next position, and am also looking at and applying to graduate schools!
The biggest thing I got out of RISE is that no matter how big your impact is on the world, it matters! Many small changes lead up to bigger change. If you impact one person, that can lead to a ripple of impacting many others. Coming into such a big school, RISE helped me find my niche and where I could make a difference. My expertise as far as RISE goes are the Bailey Bees! I spent all four years working with the team in outreach events and teaching incoming students about beekeeping. I am also interested in all the natural sciences, and love plants and insects, and now herps!
A fun fact is that I installed a pollinator garden right in the middle of campus with another RISE member! I also love crime podcasts, and shows and movies!
Becky Jo Farrington - Class of 2002
I remember that my Mom read the letter that came the summer before my freshman year about the RISE program and I'm so glad that she did and that I found the program. I changed my major and therefore my college three times during my time at MSU and the thing that remained constant was the RISE program. I feel especially grateful for this and the experiences that I had, also for the appreciation I gained for a unique program like RISE. Now, I get to help raise funds to support the program and I also choose to give back myself! I am so grateful to be able to do this.
I graduated from Michigan State in December of 2002, I have a B.S. in Fisheries & Wildlife and am also a graduate of the RISE Program in the College of Natural Science as well as the Honors College. Currently I work for the College of Natural Science Dean's Office as a member of the NatSci Advancement Team. I am one of three fundraisers for the college, my title is Associate Director of Development, I've been in this role for nearly 7 years. Before that I have worked for environmental non-profits both locally in Mid-Michigan, in Florida and also in Oregon. I also serve on the Board of Directors for our local chapter of the "Association of Fundraising Professionals" which is an international professional organization for fundraising professionals. I have expertise in fundraising, outreach and community organizing as well as some background in environmental education and political/policy work. I am interested in building strong and lasting relationships and community around my personal values which include education, public and environmental health as well as public policy around these issues.
Fun facts: I want to learn how to both sail and scuba dive so that I can dive shipwrecks in the Great Lakes and the Caribbean and also volunteer to help sea turtle rescue organizations. I love anything that involves being on the water - especially on a Great Lake or any river in Northern Michigan. My family spends a lot of time in the Beulah/Frankfort area on Crystal Lake.
Bethany Kogut - Class of 2018
Hi all, my name is Bethany and I am a RISE Alum of the Class of 2018. I was an RA on the RISE floor as well as a Manager at the Bailey GREENhouse and Co-Founder of Land Grant Goods. RISE totally sparked and changed my life projection around the environment and sustainability. I learned all of my farming experience through RISE and truly developed my passion or the planet in this program! Since graduating, I have moved to NYC and received a Masters Degree in Environmental Education from NYU. I have been working in Garden Education as well as Cooking and Food Education around New York City, primarily in Brooklyn and the Bronx. In my free time you can find me outside finding new green spaces in the concrete jungle, listening to podcasts or reading books, and finding all of the nook and cranny coffee shops I can stumble into! I would love to share the wealth of MSU knowledge, as well as Environmental Education knowledge that I have with you and look forward to meeting you!
Degrees: BA, Elementary Education, Minor in Environmental Studies & Sustainability MSU 2018; MA, Environmental Conservation Education NYU 2020
Current Profession: I am currently a Garden Educator in Brooklyn NY through NYU.
Expertise and Interests: Urban Farming, Food, Cooking, Pollinators, Education, STEMed, Sustainability Education, Vermicomposting
Fun Fact: I was on an episode of Diners, Drive Ins, and Dives in the Bailey GREENhouse.
Cam Freisen - Class of 2016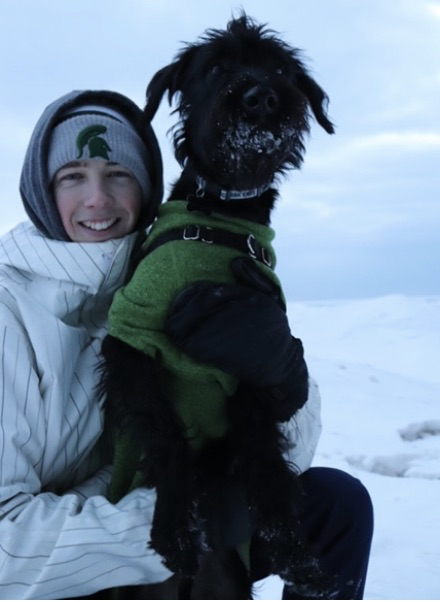 I am a part of the original group that lived in Bailey hall (I have the t-shirt to prove it). I enjoyed meeting people with different majors that were also passionate about the environment. I ended up living my entire college career with people from RISE and others that I met my freshman year at Bailey hall. RISE is a close-knit group that pushes and supports each other in career objectives as well as initiatives to protect the environment.
My degree from MSU is a B.S. in Packaging Science, and I am currently a Packaging Engineer II with Illumina, San Diego CA. I was a member of the MSU school of packaging (CoPPAC) and credit my career opportunities back to the school of packaging and the education they provided me. On a personal note, I enjoy the outdoors (surfing, kayaking, snowboarding, camping) and continue to follow MSU sports closely. GO GREEN!
Expertise and interests: Packaging Design, Trouble-shooting Packaging and Labeling equipment. Developing sustainable packaging solutions that move efficiently through the supply chain.
A couple fun facts about myself: I met my wife through RISE, and I would not be accepted into RISE if I applied today.
Don Nguyen - Class of 2020
Hi everyone! My name is Don Nguyen and I am a recent grad from Michigan State. During my time in college, I double majored in microbiology and genomics & molecular genetics. Currently, I am now a graduate student at Duke University studying public health. In my free time, I enjoy running, watching TV, and photography. Fun fact, I own a drone which I use to take pictures and videos to share with people!
RISE was a huge part of my life at MSU, and I am so happy you all have chosen to make it a part of yours! I did many things from tutoring, to undergraduate mentoring, to working as a teaching assistant in the program, and there are just so many ways to get involved. I hope you follow in a similar path and take advantage of the resources college has to offer!
Jesse Nagel - Class of 2016
I graduated from MSU in 2016 with an Economics degree and both the RISE and math minors. Having not gotten enough Michigan State, I then entered into the Education Policy PhD program just up the river from Bailey Hall, where I'm entering my fifth (and hopefully final) year. With these degrees, and the vast range of perspectives and experiences I've had here, I hope to bring an equity-focused lens into state education policy.
My expertise is primarily in the economics, policies, and politics nested within educational issues. In my undergraduate years, this centered around equitable access to post-secondary education. As I've moved through the Education Policy program, I've taken time to develop knowledge surrounding school choice, teacher labor markets, collective bargaining, and education finance, with my thesis focusing on the equity implications of Michigan's current special education funding structure. The nature of the field of education fits my scattered attention, as issues are constantly in flux and those deemed most pressing are regularly changing.
I have interests in a ton of things, and tend to follow whatever I'm interested at the time. In the fall that means fantasy football, and in the spring that means March Madness. At all times of year, I explore my interests in music and food. Most importantly, and most interesting to me, though, is my dog, Hamish. I will always talk about Hamish.
Kate Olender - Class of 2005
RISE introduced me to what became my career. Through RISE, I discovered the inequities in our food system and started volunteering at a school garden. After I graduated, I got a job where I focused entirely on addressing our food system inequities and on starting and running school gardens. Both the education and the people I met through RISE supported me immensely in that job, and still do today. I was also fortunate to work for the RISE program, where one of my projects was to help write a case to the University for why RISE students should be housed in a special community (this was when RISE students were spread across many dorms). This project helped me think about how to position things I care about for different audiences, which is core to my job now and is a skill and a mindset I've used throughout my career.
My degrees are a BS in Agriculture and Natural Resources Communication (Michigan State University), as well as a MPH (Tufts University) and a MS in Food Policy & Applied Nutrition (Tufts University, Friedman School of Nutrition Science & Policy). I am currently a Partnerships Manager for Cargill, as part of the Corporate Responsibility team. Cargill is the largest privately held corporation in the U.S., employing over 160,000 people in 70 countries. My job is to develop, maintain, and strengthen partnerships between the company and global NGOs to advance our corporate responsibility commitments on sustainability, smallholder farmers, women's economic empowerment, nutrition, and other important issues. My entire career (15 years) has been in food and agriculture. I worked in hunger/food advocacy nonprofits for the first portion of my career, but in graduate school I became interested in the role the private sector can play in the food and agriculture issues I care about. Since then, I've worked in the food industry, first at a global PR firm with food and agriculture clients, then at the fresh fruit and vegetable trade association where I ran the foundation, and now at one of the world's largest agribusiness companies. I love the intersection of public health, policy, business, and food, and working across sectors to make our food system better. Right now, I spend much of my time building a program that supports smallholder chicken farmers around the globe, primarily in India, Mexico, and Kenya.
Beyond my career, I enjoy reading, hiking, backpacking, camping, gardening, tennis, and crossword puzzles. A couple fun facts about me are that I once danced on stage in a banana costume to guide participants in a charity 5k warm up. This was not planned. I also keep a pocket microscope in my purse in case I find any cool bugs or plants when I am out and about.
Liz Freisen - Class of 2015
My degrees are: BS: Environmental Economics and Policy (Now E.E.M.) Minors: Sustainability Studies, STEPPS - Science, Technology, Environment and Public Policy, MS: Human Development and Family Studies. I am currently a Community Management Specialist at GoFundMe in San Diego, CA.
I'm someone who loves to apply my critical thinking skills daily, and working in community management for a tech company provides me that opportunity. I've also found that fulfillment in past environmental policy internships, so I'm happy to speak to many different career and degree paths, and what might be best for you. I love helping students discern the answers to questions such as "what's next?" or "what's realistic?", and find that we need help from a mentor both when we feel at our best (how can we be prepare for the next opportunity?) and when we're at our worst (how can we move forward from this setback?). My own great mentors have created a slew of opportunities for me that bettered my mindset and my career opportunities. My best MSU experiences were getting to apply for and manage grants, and conduct undergraduate research. I'm also happy to help with discussions about financial aid and scholarships, which made my own MSU experiment possible.
I like to get my hands dirty, and still compost with worms at home! RISE made me a more confident leader, helps me remember to consider everything, and keeps my flame for environmental advocacy well-kindled! One fun fact about me: I had a self-control problem with Brody Caf cookies!
Maria Cotter - Class of 2017
Hello! My name is Maria Cotter. I graduated from MSU in 2017 with a BS in Food Science and dual minors in Environmental and Sustainability Studies, and Fermented Beverage Science and Technology. Today I'm a PhD Candidate at Ohio State University studying Food Science and Technology. My graduate minor is Public Policy and Management, which I tailored to focus on food policy, and my thesis is centered on Sensory and Consumer Sciences. I was an active RISE member from 2013-2017. During my time in RISE I was a mentee (Jesse Nagel was my Mentor!) and became a mentor my sophomore year. Junior year I was the student mentor coordinator and took on a similar role my senior year training the new coordinators with Laurie. From my sophomore through senior years I conducted undergraduate research on community engagement and food values in the RISE kitchen, which was funded by the Feeding the Future grant. This opened the door for me to work on the UPREC extension farm the following summer to learn more about organic agriculture production and management. Finally, my junior and senior years I co-taught NSC292 and a few NSC192 lectures with Laurie. RISE opened more doors for my education than I could have ever dreamed.
Expertise and Interests: Wild to think that I may be considered an expert, but I have been studying food science for the past seven years. Throughout my studies I have also taken business, marketing, and consumer behavior courses at both MSU and OSU. I am interested in understanding the underlying mechanisms that impact consumer food choice.
Fun Facts: I biked from the coast of Maine to Lake Michigan (1,300 miles), and my sophomore year at MSU I was a Bailey Hall Euchre co-champion.
Tremaine Phillips - Class of 2008
I was a RISE student and teacher assistant for Laurie Thorp. Laurie and the RISE program provided me with a foundational understanding on how to harness my interest in the environment, clean energy, and climate change and channel that passion into a career. Laurie is still, to this day, one of the most important mentors I have had during my academic and professional careers.
Tremaine L. Phillips was appointed by Governor Gretchen Whitmer to the Michigan Public Service Commission on September 9, 2019. His term ends on July 2, 2025. Prior to his appointment, Commissioner Phillips worked in the public and private sectors to accelerate the nation's transition to clean, renewable and reliable energy resources. Most recently, he served as the Director of Cincinnati 2030 District, leading the organization to become one of the largest and most engaged 2030 Districts in the country. As Vice President of Strategic Initiatives for EmpowerSaves, a Columbus-based energy efficiency data analytics and marketing company, he was recognized in 2016 as an emerging clean energy leader through the Midwest Energy News' "40 Under 40" award. He also spent a summer in Washington D.C. working to advance climate and clean energy policies, including the Clean Power Plan, for the Obama Administration as an intern with the White House Council on Environmental Quality.
Degrees: Mr. Phillips is a graduate of Michigan State University and The Ohio State University, where he received his Juris Doctorate from the Moritz College of Law and a M.A. in Public Policy and Management from the John Glenn College of Public Affairs.
Interesting facts: I have been skydiving in Hawaii and New Zealand and I am an avid bird watcher and amateur meteorologist.