Future Students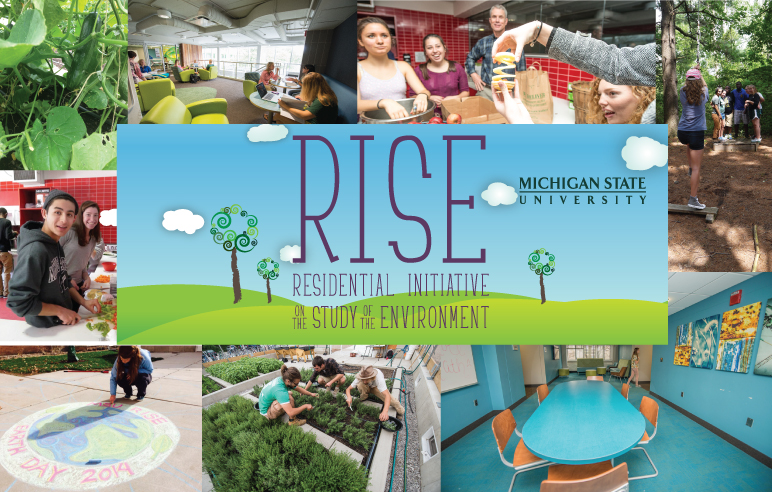 Congratulations on your admission to Michigan State University! As you explore the many options you have to get connected to a community of learners, please take a moment to consider how participating in the RISE living-learning community in Bailey Hall can enhance your experience at MSU.
The Residential Initiative on the Study of the Environment (RISE) is a living-learning community devoted to understanding the complex interdependence of the human and natural world. RISE is a residential option open to all incoming students. Students in RISE often pursue the Minor in Environmental and Sustainability Studies in addition to their preferred major.
Why RISE?
Our rapidly changing environment opens up a world of opportunities for students passionate about sustainability and environmental stewardship. Michigan State University ranks as one of the nation's top universities for sustainability and it's where next-generation leaders gain the experience needed to address some of the world's biggest environmental challenges. The RISE Program provides an entry point for all students interested in the environment to connect with a community of scholars who share their passion for sustainability via a variety of environmental areas including:
Sustainable Agriculture and Horticulture
Zoology and Animal Science (including Veterinary Medicine)
Green Business
Ecology
Conservation Biology
Engineering
Environmental education
What does RISE provide?
Employers look for real-world experience working with real-world problems. A wealth of opportunities are available to RISE students. Including:
Undergraduate research experience
Volunteer opportunities in Bailey GREENhouse
In-hall career and transition advising
Leadership opportunities
In-hall peer mentoring
Internship assistance
Living in Bailey Hall (LEED-certified residence hall in the Brody Neighborhood)
The RISE Program provides many unique opportunities while living and learning in a close-knit community, fostering friendships and an intellectual curiosity that persist for a lifetime.
Need More Information?
Please take a moment to peruse our website. We area also happy to set up a tour or connect you with one of our current students. To inquire about either, please email Dr. Laurie Thorp.

RISE is a selective program with limited space. For full consideration, please apply early. We admit students for the next fall's cohort on a rolling basis after November 1 of the previous year. We close applications in April or when our space is full. The online application is located on the link located to the right.