Who Was Liberty Hyde Bailey?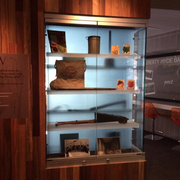 RISE Honors Bailey Hall's Namesake
The Michigan State University Residential Initiative on the Study of the Environment or RISE Program, in conjunction with the Michigan State Museum developed this display (now removed) on the first floor of Bailey Hall highlighting the hall's namesake, Liberty Hyde Bailey.
The display featured several historical artifacts of Bailey's era as well as an array of photographs from the era and a selection of quotations from Bailey's writing.
"A garden requires patient labor and attention. Plants do not grow merely to satisfy ambitions or to fulfill good intentions. They thrive because someone expended effort on thiem." -- Liberty Hyde Bailey, Country Life in America, 1903.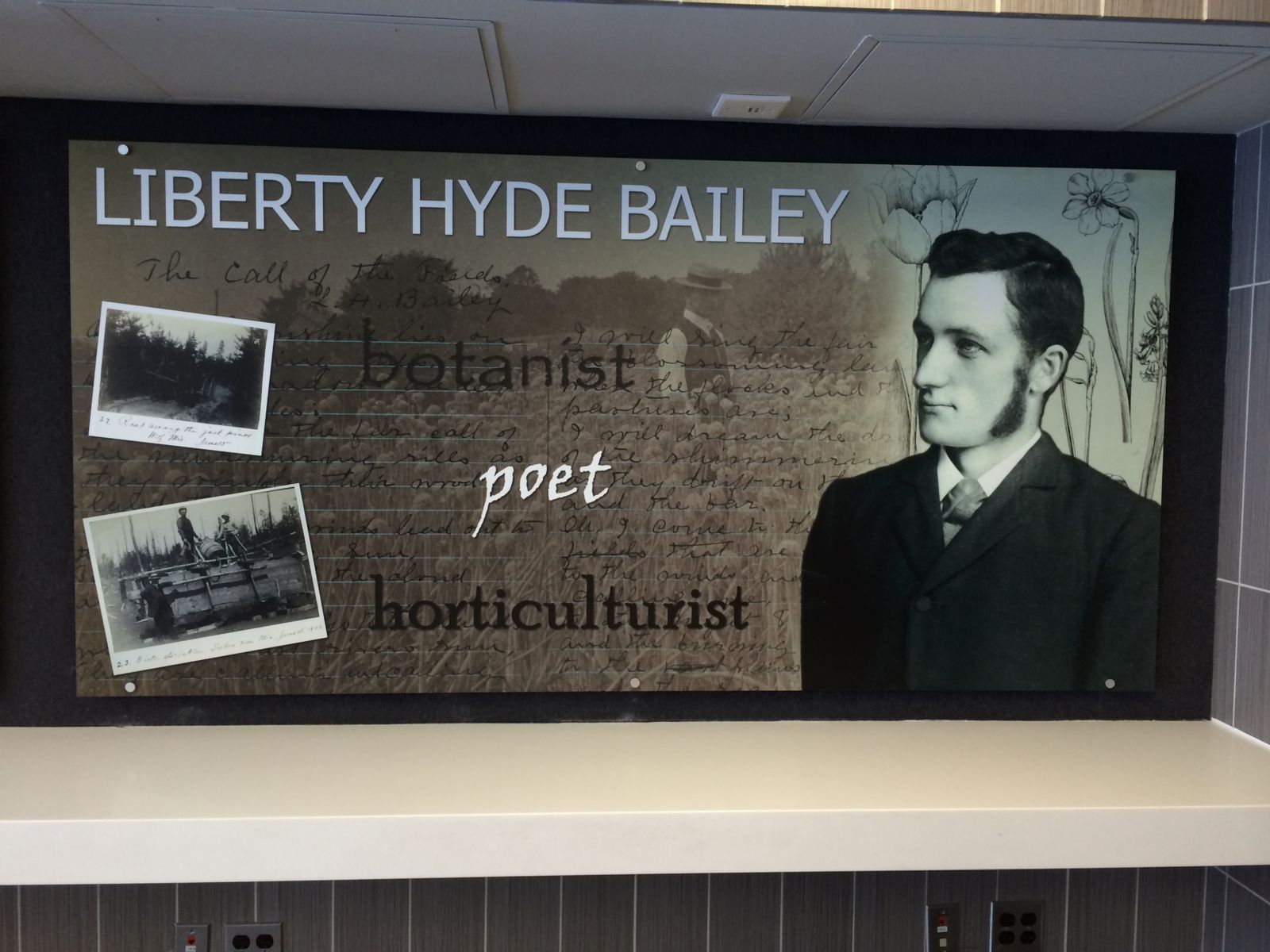 About Liberty Hyde Bailey
Known as America's Father of Modern Horticulture, Liberty Hyde Bailey, was born in South Haven, Michigan in 1858. He was a profoundly thoughtful man of diverse interests. Bailey devoted his undergraduate years at Michigan Agricultural College (MAC) (now Michigan State University) to the study of botany. After graduating in 1882. Bailey attended Harvard University to work with Asa Gray, a world-renowned botanist. In 1884, Bailey returned to MAC as Professor and Chair of Horticulture and Landscape Gardening, establishing the first horticulture department in the United States. He continued his work at Cornell University in New York, where he developed an extension program designed to teach natural studies to people in rural areas. The program's astounding success spurred the State of New York to establish the New York State College of Agriculture at Cornell, with Bailey as dean. Bailey appointed Cornell's first female professors and created the Bailey Hortorium, one of the largest collections of preserved plant material in the nation. Bailey published over 1300 articles, 65 books, a collection of poetry, and 24 albums of plant photography. A catalog listing of the works of Bailey can be accessed at the MSU Library via this link. Some of Liberty Hyde Bailey's papers are housed in the MSU University Archives and Special Collections. You may read a summary and list of these here: http://archives.msu.edu/findaid/ua10-3-1.html. In 2004, Cornell University produced a web exhibition on Bailey here: http://rmc.library.cornell.edu/bailey/index.html There you will also find listed a repository of Bailey Papers there and elsewhere. We also want to provide a link to the Liberty Hyde Bailey Museum in South Haven, MI: http://libertyhydebailey.org/
"Recognizing and preserving the legacy of Liberty Hyde Bailey is a critical foundation of this initiative," said Dr. Laurie Thorp, director of the Michigan State University RISE Program. "Bailey's early influence on the modern agricultural movement as well as his interdisciplinary approach to solving problems and improve living is key to the current work of RISE and the Bailey GREENhouse. We can think of no better way to educate current students about this legacy then to launch this partnership with the Museum and bring his tools and writings to the hall."
Vice President For Auxiliary Services Vennie Gore stated: "We are proud to carry on the legacy of Dr. Bailey through our partnership with the Bailey GREENhouse. Being able to demonstrate to our residential dining guests the full-circle process of agriculture is a fitting tribute to his ground breaking work."
"To farm well; to provide well; to produce it oneself; to be independent of trade, so far as this is possible in the furnishing of the table, - these are good elements in living." -- Liberty Hyde Bailey, The Holy Earth, 1915.
View a selection of artifacts from the display below. Click to view a full-sized version of the photographs.
Participating Colleges
We welcome any MSU student to participate in RISE. These are the colleges with whom we directly partner: