Bailey Compost Initiative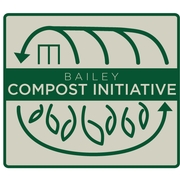 The Bailey Compost Initiative (BCI) is taking action in order to make composting an easy process. We know that we must close the foodloop and reduce our footprint on earth. In order to do this, BCI is conducting research in the The Bailey GREENhouse and Urban Farm on the process of composting in an urban environment. This will allow us to discover the most feasible, efficient, and sustainable ways to incorporate composting in the everyday life of an individual. The goal of BCI is researching the process of composting using scientific techniques, while emphasising the social aspect at the same time.
Students in RISE can participate in the Bailey Compost Initiative (BCI) by signing up to receive an in-room compost bin and contribute their compost to the project's designated collection sites*. To participate, come to the RISE office and speak to Dr. Laurie Thorp who will put you in touch with BCI's current leadership.
*Compost collection sites are in Bailey Hall and Emmons Hall lobbies. In order to participate, individuals must be able to drop off compost to either one of those locations*