Sustainable Learning Spaces & Recycled Materials
Categories: Homepage Images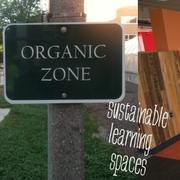 How is RISE a Sustainable Space?
Read below to see how students in RISE describe this unique aspect of the RISE living/learning community
---
"I am an incoming freshman and my major is business. To me RISE is a community for students to learn together about Environmental Sustainability. I think it's great how RISE consists of a community of learners it's a great way to stay motivated and meet new people. Having rooftop honeybees is a great way to learn about the importance of pollinators and the loss of bees. I think seeing and learning about the bees will be an amazing experience. The sustainable learning spaces and recycled materials is a great way to learn about the importance of environmental sustainability. Seeing the plants grow in natural light sounds like a great experience. The edible landscape sounds amazing I love fresh fruits and vegetables. Being under one green roof is a great way to meet students who share the same interests and students who take similar courses. Learning to care about other living creatures is a great philosophy. The green cuisine is very exciting to me eating organic food is great for the environment and your health."
Cole Devon
MSU Class of 2020, Business preference major