Rooftop Honeybees
Categories: Homepage Images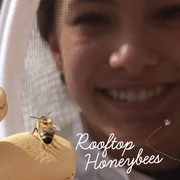 Wait, there are bees at Bailey hall?
Read below to see how students in RISE describe this unique aspect of the RISE living/learning community
---
"As an extension of the Bailey GREENhouse and Urban Farm, the Bailey Green Rooftop has vegetable beds as well as 2 Hives of flourishing Honey Bees. Unfortunately, we lost both of our original colonies to the Varroa Mite last winter, but with help from Meghan Milbrath (The Coordinator of the Michigan Pollinator Initiative) and Walter Pett (MSU Entomology Professor), we have successfully installed 2 new colonies. RISE plans on spreading the message of the importance of these pollinators, as well as the devastating loss of Bees through Colony Collapse Disorder(CCD) through outreach, research, and student involvement. Make sure to follow @MSUBaileyBees on Twitter and like us on Facebook under MSU Bee Club! We plan on changing the way MSU and the world views bee. We also always welcome interest and involvement!"
Alex Marx
MSU Class of 2019
Major: Environmental Biology/Zoology. Minor: Entrepreneurship and Innovation