One (green) roof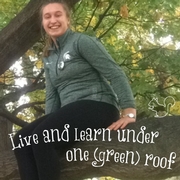 RISE Students LIVE and Learn Under one (Green) Roof!
Read below to see how students in RISE describe this unique aspect of the RISE living/learning community
---
"What I love about Bailey Hall and RISE the most is walking out of my dorm room and being engulfed in a community of learners that all care about the planet, education, and a good time. RISE consists of hundreds of students who live in the same building, who take similar courses, and who constantly breathe green. We learn about the problems, the solutions, and the possibilities that surround the quality of our earth. We grow organic vegetables in a completely solar powered hoop house outside year round. We watch movies in the fishbowl and relax like pros. And above all, we make change."
Alex Marx
MSU Class of 2019
Major: Environmental Biology/Zoology. Minor: Entrepreneurship and Innovation