An Ethic of Care - Even the Cuisine is Green!
Categories: Homepage Images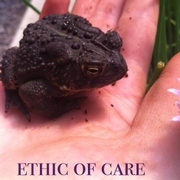 How does RISE Foster an Ethic of Care?
Read below to see how students in RISE describe this unique aspect of the RISE living/learning community
---
"Last April, during the spring semester of my freshman year, I was fortunate enough to assist in a long, six hour pig birth at RISE's very own Student Organic Farm. The pig project is one of RISE's many hands-on learning projects for students interested in environmentally friendly fields that allows us to help raise pigs, and I've been lucky enough to be apart of it. Growing up in the middle of the city I was never exposed to farm animals and I never knew the impact that they could have on me, until I joined RISE. The pig project exposed me to getting down and dirty with swine by feeding them, birthing them, and overall taking care of them. However, it also taught me that pigs are very rambunctious and loving creatures that should be treated with respect. Considering I have been in RISE for only one year, I have learned so much about myself as an individual and as a student because it has given me the opportunity to do something I would not normally be doing. I have realized that I want to dedicate my life to animal welfare, especially for farm animals- the types of animals that are forgotten about and dismissed just because they are raised to become food. Through participating in RISE's pig project I have gained insight into my passion for animal welfare and have realized that every living being deserves as much care as the next."
Tabitha Maria Zivku
MSU Class of 2019, English Major