RISE AOP Prep Workshop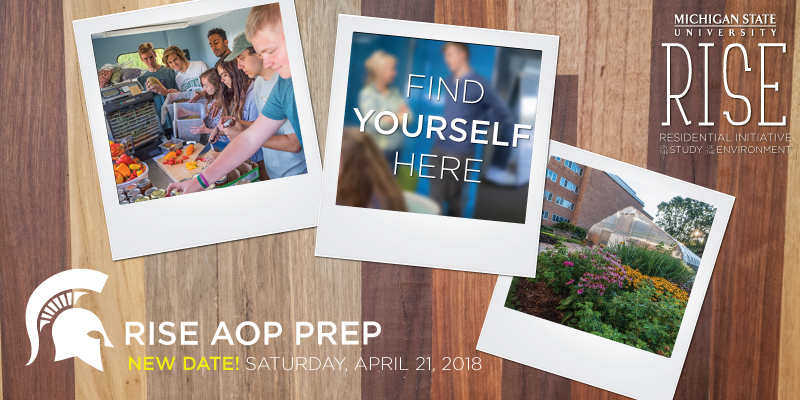 RISE AOP PREP WORKSHOP - APRIL 21, 2018
RISE hosts a day-long workshop to prepare incoming RISE students who have been admitted to both RISE and MSU for their Academic Orientation Program date. This year's workshop will be held on Saturday, April 21, 2018 (PLEASE NOTE NEW DATE), at the Brody Neighborhood in Bailey Hall on MSU's East Lansing campus.
The RISE program directors and current students will be available to help you explore different majors, prepare for scheduling classes, and start connecting with your fellow RISErs. There is no cost to participate in the RISE AOP Prep Day, lunch and snacks are provided. The RSVP date was Friday, April 13, 2018. Please plan to bring a laptop or tablet.
Participation in this workshop is strongly recommended for your success at AOP (out of state students, see note below). Once you schedule your classes during your AOP session, you will be locked out of the scheduling system until the end of August, right before classes begin, and it is very difficult to change your enrollment at that point in time. For this reason, we recommend that you participate in the AOP Prep activities so that you can maximize your time during AOP.
Out of State Students:
We are creating a series of short videos that will briefly cover the content we're presenting at the workshop. We'll be in touch with you with details on how to access the videos.
What will you learn at the AOP PREP Workshop?
What to expect at MSU's Academic Orientation Program (AOP)

registration for classes
advising

How to prepare for AOP

identifying your major
understanding major requirements
pre-scheduled courses

Connect with members of the RISE community
How to succeed at MSU

knowing your strengths
experienced students will share their success tips
To Prepare for the RISE AOP PREP Workshop, please:
Bring your laptop to all sessions
AOP PREP Workshop Schedule
8:30-9:30am – Introduction & Welcome
9:30-10:00am – What to expect at AOP
10:00-11:00am – "How to Adult" independence and self-authorship
11:00-12:00pm – MSU Colleges and Choosing a Major Panel
12:00-1:00pm – Lunch at Brody Square
1:00-1:45pm – Academic Programs Catalogue, Schedule Builder, & D2L tutorials
1:45-2:30pm – Planning & Advising
2:30-3:00pm – Review, Next Steps, and Q&A
Questions about the RISE AOP Prep Workshop? Please contact us!