Apply for RISE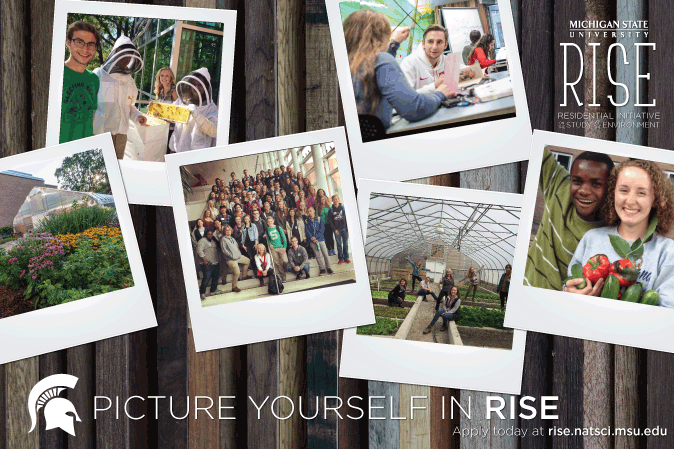 Interested in Joining RISE?
We are now accepting applications for our Fall 2020 Cohort! Please see application below, and contact us if you have any questions.
If you are a high school senior or transfer student and you want to participate in RISE (which will require you to live in Bailey Hall your first year), please consider applying. Acceptance into the RISE program is contingent on your undergraduate admission to MSU.
If you are a current MSU student and are interested in the Minor in Environmental & Sustainability Studies, please check this page and schedule an advising appointment.
To Apply: Complete the online application below and hit "submit." (NOTE: Some applicants have told us that they are getting a "SPAM" response when they try to submit their. Please try an alternative web browser, i.e. Safari or Chrome). If you have supplemental materials you'd like to submit, you can upload them to the application or email them to the Director, Dr. Laurie Thorp at thorpl@msu.edu.
Selection decisions are made on a rolling basis beginning in mid-November. Spaces are limited and we encourage interested students to apply early. Our early admissions deadline is March 20th. The RISE application will close April 10th, after that we will be taking applications on a case-by-case basis only.
As you complete the application below, please be aware of our selection criteria:
Commitment to the foundational principles and values of environmental stewardship;
Potential for academic success;
Balance and diversity among the incoming class of RISE students.